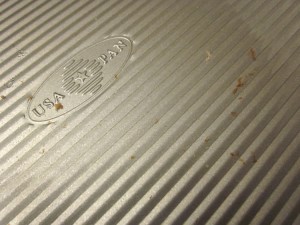 I wanted baking pans that are:
Easy to use
(no greasing, spraying, scrubbing)
Eco friendly
(no need for parchment paper or foil)
Made in USA
USA Pan has what I want. This is the result from baking with their 9″ round cake pan.
Easy to Use
I've made cookies, cake, and bread from this pan–all without greasing. After I removed the bake goods, if there were any residues, it washed off with some water.
Eco Friendly
The bake goods came off without any effort–eliminates the need to use parchment or foil.
I did have some crumbs left at the bottom of the pan with my modified pound cake recipe but the cake was still in a pretty nice shape.
Performance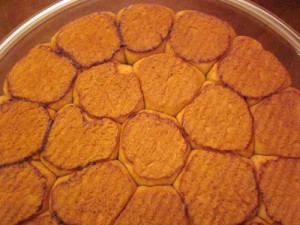 Not only it's made in USA, I was impressed on how even it bakes.
As you can see from the images of my Honey Wheat Rolls. Mind you, I have to bake in a toaster oven (it takes a 12″ pizza pan).
You can see that it leaves ridges at the bottom but that doesn't matter much to the presentation.
Note on Care
Don't use dish washer and don't scratch the surface. You don't want to damage the silicon coating.
Tip on baking with a toaster oven:
To prevent charring the top, get a piece of parchment paper ("If You Care" is reusable) large enough to cover your dough, but just lay it on top. You want air to go though and block the direct heat at the same time.
Foil is not a good option because it blocks too much heat which produces uneven temperature in your dough.