100% Cotton, Super Soft, Light Yet Not See-Thru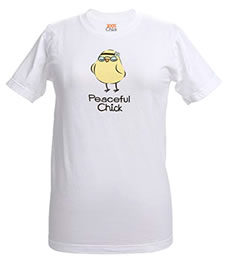 This is the most comfortable cotton t-shirt I've ever owned. I can feel the quality in this 100% cotton fabric, yet it's light enough that it almost felt a linen shirt (I like my t-shirt loose fitting) only it's not as see-thru. A win-win for me!
Cute Designs
There are different designs that come with their own colors: "Biker Chick" in black; "Country Chick" in red; "Yoga Chick" in seafoam/gray; "Peaceful Chick" in white/light blue.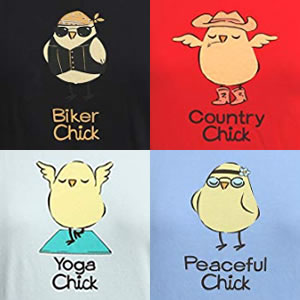 I have the "Peaceful Chick" in white.
Made in USA
The seller, Green 3, wrote "All of our products are designed, sourced, and produced in the USA in family-owned manufacturing facilities."
I am so happy to have found the USA made quality in this fun shirt!
Sizing
The t-shirt is relax fit, slightly more shaped than the classic cut, so if you like your t-shirt loose, get one size up, I did.
Free shipping + Free Return on Amazon
If you are not sure about the sizes and designs, take advantage of the free shipping by ordering 2+ different sizes/designs to try it, then use the free return to exchange or order the ones that you like best.
NOTE: Make sure you confirm the free return offer where the price is listed. I am not sure if it's always going to be there.
P. S. Want more USA made goods? See what else I actually use or shop at my Made in USA Amazon Store.