Cherish the empty spaces
After donating, recycling, and throwing away the rest of what I no longer need or love, I was surprised that I actually have shelves and drawers left empty. And I have to remind myself that empty spaces are the best medicine for my sanity.
Now I've lived with my KonMari-ed room, I am proud to not pile things up again. One empty shelf is now the holding place for things to be give away, either going to friends or for donation.
Reclaiming the joy of paper crafting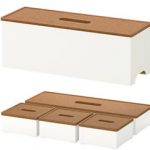 For my desk, I have two metal boxes from IKEA, holding the most used items. The boxes come with cork lids but bits of cork fall out all the time. So, I decided to make lids my way:
Instead of having to remove the lid, the new lid act as a hinged cover. It's much easier to open and shut.
No more holes in the lids for dust to get in the boxes.
Have my own design: I wanted white cover but found the contrast too sharp for my desk. I added a stripe of real cherry wood veneer. (By Arc Crafts on Amazon.com.)
This process also helped me reduce my specialty paper collections. My collections are my sentimental items. I figured the more I used now, the less volume (i.e. pain) I would have parting with them.
I had great fun making and designing the lids, therapeutic while productive, exactly how I roll.
Since white dirties easily, I also made inserts to line the boxes. See the bright yellow poking out from the bottom of the black insert? Sparks joy everytime I raise the cover.
Repurposing & make it yours
You may not be a paper nut like me but try repurposing what you do collect. Marie did suggest to use what you have on hand to save money as you reorganize your items. You can't buy read-made items to fit your every need anyway, why not make them your own?