Quiet on the outside
From this picture, you see mostly solid colors and no small clusters of stuff. This create the visual tidiness like folding with Konmari method.
This Aqua metal 5-drawer cabinet was the seed of my vision. I've always wanted one, now I have a good reason. When I saw the actual color in The Container Store, sparks of joy flew. I'm still happy every time I see it!

But I needed two to hold up the stereo and other things (unknown at this point), so I ordered one in yellow, a color I also like.

I also joined their POP membership to save on possible future purchases.

At the bottom I need something strong to support everything on top. After measuring, searching, and comparing, I ended up with BESTA shelving frame from IKEA.

To be honest, I wasn't so sure about the white but the other two colors just shout blah. Once I put it in, it actually brightened things up just the right amount.

By the way, a few weeks after I bought it, it went on sale. Being an IKEA Family member gave me a 90-day price protection. And I got $8 back from my IKEA store.

While waiting form my metal cabinets, I kept visiting The Container Store just for fun. By accident, I wondered to the clearance rack, saw a bit of yellow that matched the cabinet peaking out of an discountinued item for $13.

When I opened it, it was a metal storage cube I had considered but thought it was too expensive. Right then, another part of the vision puzzle fell into place.

I bought it then ordered a white one to help support the shelving plank above it. FYI, the doors and inside shelves come separately!

Free shelf covers! These are actually packaging lids for the 5-drawer metal cabinets. They are effective in hiding the "noisy" contents thought they don't cover the whole opening. However, that's what makes them easy to remove. I thought making something wider myself but none would look as nice.
I've this arrangment for 3 months now and haven't changed a thing.
Party on the inside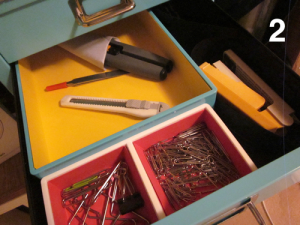 From the pictures, you can see that I wanted color inside the drawers. This way I get the burst of color joy only when I open the drawers, as I prefer visual tranquility most of the time.
Looking inside drawer 2, you see the turquoise and white trays are lined. I used the color paper I have on hand to add vibrance and protection to the trays.
I also carry the idea to other drawers. Each drawer, according to its contents get a different treatment. Keep in mind that I also made my own insert when I did not like anything fitting on the market.
Function + form = spark of joy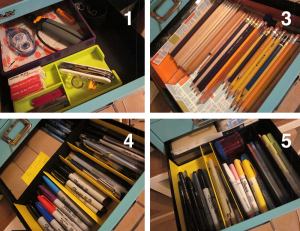 What makes me smile other then all the colors in my drawers? Everything is where they should be.
Drawer 2 holds the most used items. I might have use drawer 1 but it doesn't like to be opened all the way, even after I fixed the inside structure. And after months of using it, I realized drawer 2 is at the perfect height.
So, as you put your items in order, remember your sprak will go away if it's a pain to use.
Do I have enough pens and pencils?
Once you are Konmari Clean, you can save money and avoid new clutter. As you see in my drawers that it's obvious that I don't ever need to buy more pen and pencil. And that's the whole point of working by categories.
(Re)Locate with logic
Consider these with storage containers, cabinets, and individual items alike:
Keep these near where they were before? Is there another location that would be more efficient?
How often will you use it? Think ease of access.
Are these items where you might be looking if you don't really remember exactly?
Officially Konmari Clean
One last thing, I do have a deal-with-it-later shelf but it's obvious enough I won't forget it and not prominent enough to bother me.
Oh, one more last thing, less stuff = easier to clean = clean more often.
I believe, as Marie promised, I don't think I will ever clog up my space again.