Yes, I recycled incandescent light bulbs! At my local IKEA!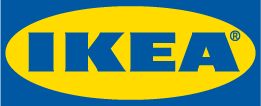 It is right by the exit where I passed by many, many times. How in the world did I miss the lovely recycle station there? Oh, right, on every visit, I actively avoid buyer's remorse and not hanging out at IKEA for fun.
Other than incandescent light bulbs, my local IKEA takes fluorescent light bulbs, plastic bags (the grocery store bins are always overflowing and often mistaken as the garbage can), and their old catalogs/paper. I've found other locations taking cardboard and batteries.
But I am not sure if every store accepts the same things, so make sure you look for the recycle station the next time you visit your local IKEA.