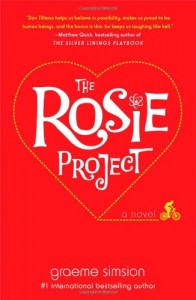 "A romantic comedy, a mystery, and an entertaining teaching aid all rolled into one" is an gross understatement of what The Rosie Project (by Graeme Simsion) turned out to be for me.
Other than the occasional itches, I haven't been reading many romance novels. When my sister recommended this book, I had confirmed its quality by the super long waiting list at the library and decided that it's likely that I won't be waiting my life. And that is exactly what Don Tillman, the hero of the book, would do in my situation.
Could I have Asperger's, too?
I was astonished to find out how many traits I share with Don, such as the dislike of time waster, inefficiency, and lack of planning. And I always have a project or two on hand and the one-track mind to get them done. At some point in the book, I understood the reasons behind all the weird looks I have gotten so far in my life.
Digitized drama queen
Unlike Don, I was a drama queen as a child but some how it was stamped out of me along the way. Perhaps it was the pressure to measure up to more successful peers or the stress to survive in a strange land with a new language, my mind had installed virtual mechanical gears into my head and keeps me on zeros and ones most of the time. In fact, I learned to code before I could communicate in English. It can not be a coincident that Don Tillman's first career attempt was with computer, too.
Somehow, when my super emotional, unorganized, learned by whatever made sense to me methods was no longer acceptable, logic and discipline became the tools I utilized to earned a college degree and my first career. The same tools have served me well in my life but the awareness of the need to change and grow has always remained. And that is what led me to the design field and now as a writer.
Coping with the unexpected
Writing a book, as I had expected, turned out to be a long-term project. I didn't and still can't read fast enough to make me the best selling author of the next month and in my case, it might take years but I was ready for it.
What I didn't expect was life's many interruptions that doesn't allow me to be rigid with my schedule. The unpredictable work requests, the needs to care for others, all the real-world responsibilities had turned me into the time waster I detest. I was frustrated and stressed out because nothing (an exaggeration, obviously) seemed to go according to my plan to finish my novel.
Don schedules everything down to the minute and enjoys the peaceful and predictable outcome like I'd like my life to be. Though he was flexible enough to change his plans for the unexpected, he also needed time to let the stress of making the adjusted out of his system.
My symptoms for not having the "flushing out" period results in agitations and anger spikes, then all added up to a complete burn-out, which seemed more pronounced as my expiration date gets closer. The fact that I don't know when that would come only adds to the urgency.
(more reactions to reading The Rosie Project)