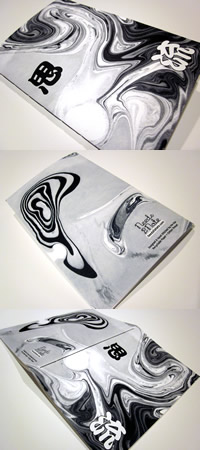 Mary Hayward, the host of Kenji's Light of Hope event, left me a comment to see if I'd be interested in donating my notebook for their fundraising event to aid the The Igari Music Therapy Research Center which was damaged in March Japan earthquake.
I knew the participating artists have amazing pieces, so I had to do something new. And to go with the theme of Japan, I used the Suminagashi (Japanese paper marbling) technique to create an organic background. This forces me to break out of my usual geometric self.
For the cover I place two kanji characters:
Thoughts (思): prayers to send to Japan, inspirations to flow on to the paper from the owner's hand.
Flow (流): unending streams of the word and of the ink on the paper
I hope the fundraising event goes well and my notebook will go with my best wishes to someone with a big heart.