Check the bandages in your first aid box, are you sure they are made in USA?
People all over the world trust the quality of US brand because products made in the States are usually safer and better. But on a trip to drug stores for bandages, I realized, even with first aid items, US brands might not be US made.
I started with the brand that took up most of the shelf space, none of this brand was made here. Next, I moved to the 3M Nexcare, thank havens, these are made in USA. Then I got curious about "green" bandages.
From the bandages I found at Whole Foods, it looks like "latex-free" is the feature, since some people are allergic to latex. These are what I ended up getting.
Nexcare Waterproof Clear Bandage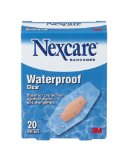 Nexcare Waterproof Clear Bandage is made of a clear material that lets the air in and keeps the water out. At first sight, I thought, how can this thin, clear layer handle my frequent hand washing. It also took me a while to figure out how to put it on. (see this application demonstration, 28 seconds into the video.)
As Nexcare advertised, it stayed on until I decided to take it off a few days later. My cut was healed and it didn't leave a ring of stickiness.
Nexcare Soft'n Flex Bandage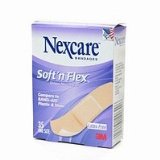 If you would rather have the traditional bandage, Nexcare Soft'n Flex Bandage is the pick. It is latex-free, comfortable to wear, and flexible to the movements. It stays on well but I must say the waterproof ones did much better.
Before you run out to the store for these US made bandages, make sure to visit Nexcare's Coupons & Rebates page and save some money!
[NOTE] Please see the 2015 update on more USA made options.