<<< Rubbermaid Brilliance Food Containers >>>

Crackers Stay Crispy Test
–Excellent Seal–
Since Rubbermaid Brilliance containers are a bit more pricey than the usual containers, I bought one on-sale to try.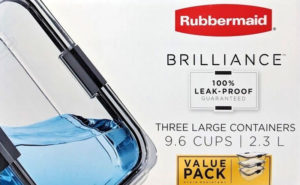 My Dad is very impatient when it comes to opening a package, so an opened pack of crackers (especially if there is a plastic tub inside) is often impossible to close back with a clip or a rubber band. Then the crackers would go stale pretty quickly.
I gave him this container to dump the crackers in. After a week, the crackers are still pretty crispy. Not only that he kept the lid back on tight (unusal for him so he must had found the lid easier to close and open), most importantly, there where no longer a trail of crumbs on the floor.
Bulk-Buyer's Perfect Semi-Long Term Storage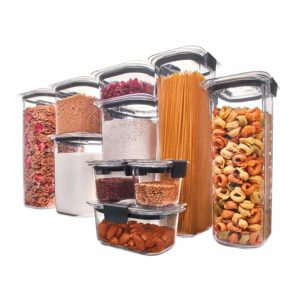 For things that can last a while, like nuts and herbs, I like to buy in bulk. However, having to find and open every big bag to get a small amount every time I cook is
Inconvenient (having to move large items around)
Food would go bad faster
Often it was so tedious, I'd give up cooking which usually leads to me eatting junk. And my body is not taking the abuse any longer. I need to make it easier, I thought, my body has been pretty good to me, I must treat it with love and respect!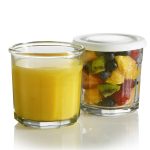 After getting the bulk pack home, I would fill one of my Luminarc Working Glasses (also made in USA) and cover it with its lid. These easy-to-remove lids keeps it simple to keep me motivated to cook.
And whatever is left, I'd put it in a Rubbermaid Brilliance container. For nuts, rice, seeds (things with more oil contents), I then put in the fridge.
What Else Do I Like About Rubbermaid Brilliance Containers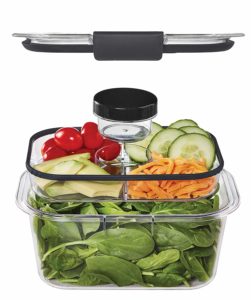 BPA free
Clear plastic (easy to see what's inside)
Freezer safe (disposable ones become brittle when frozen)
Made in USA
Stackable
Microwaveable (there are small vent holes under the latches on the lids)
And they are pretty to look at!
Many Shapes And Sizes
Though I only need the one size, I must mention that there are many, many different shapes and sizes of Rubbermaid Brilliance Containers to fill your needs. The Rubbermaid Brilliance Salad and Snack Lunch Combo Kit is an excelent example!
Made in USA = Function + Quality + Design
I am so glad Rubbermaid continues to develop great products and actually kept the manufacturing for Rubbermaid Brilliance in the States. Keep up the good work!
P. S. Want more USA made goods? See what else I actually use or shop at my Made in USA Amazon Store.