As I was coming up with an idea for a story, I paired the lead female with a military man with a lost soul. But I didn't want him to be the typical mentally unstable person, I wanted him to be someone who is aware enough to be on a search for the meaning of his existence.
The thought of a soldier with skills and characters brought me to the world of Special Forces. My knowledge about it came from TV and movies, obviously a crash course is needed.
Since I had no interest in anything war related (though I do admire people in the forces), I started with short romance stories about special ops fighters. I did enjoy the stories but those didn't show me how these special soldier are made or what traits would get them selected and trained.
Then I found One Rough Man by Brad Taylor. The hero, Pike Logan, is a man with characters and brain.
He, too, like the lead male in my story, was lost for a while after he lost his wife and daughter. I see in Pike, someone who is physically agile and mentally flexible, coming up with ideas when all seems impossible. Though he usually has a plan to begin with. That tells me, he is smart, smart enough to never become arrogant.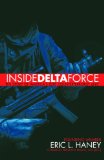 As I was reading that, I picked up Inside Delta Force by Eric L. Haney. Being one of the first Delta Force members, he described through his own experience how an Delta operator is selected and train. He told his story with great skill of words, I learned that it also takes someone with wisdom and unusual presence of mind to become a Delta operator. I think I would have enjoyed Pike Logan's story much more if I had finished this first.
One other thing. I realized I usually read books by female writers. Reading these books is helping me finding the voice of the hero in my story. Can't have a special force guy sounding like a girl, can we?
The character is still taking shape in my mind but I'm sure he would be someone I can trust, love, and admire, whatever imperfections he might have.