To be a friend to the Earth in the kitchen, of course it's best to use only washable towels but I still prefer paper towels in certain situations. For example, I just can't use towels washed with laundry detergent to dry my produce and knives.
So I do my best to get as much out of each sheet as I can. The trick is to down grade the use as the paper towel gets dirtier. Below, I list the usages with the conditions of the paper towel before and after.
Wrapping Cleaned Greens for Fridge Storage
[ New —> Kind of Clean]
Drying Washed Plates/Utensils for Immediate Use
[New —> Pretty Clean]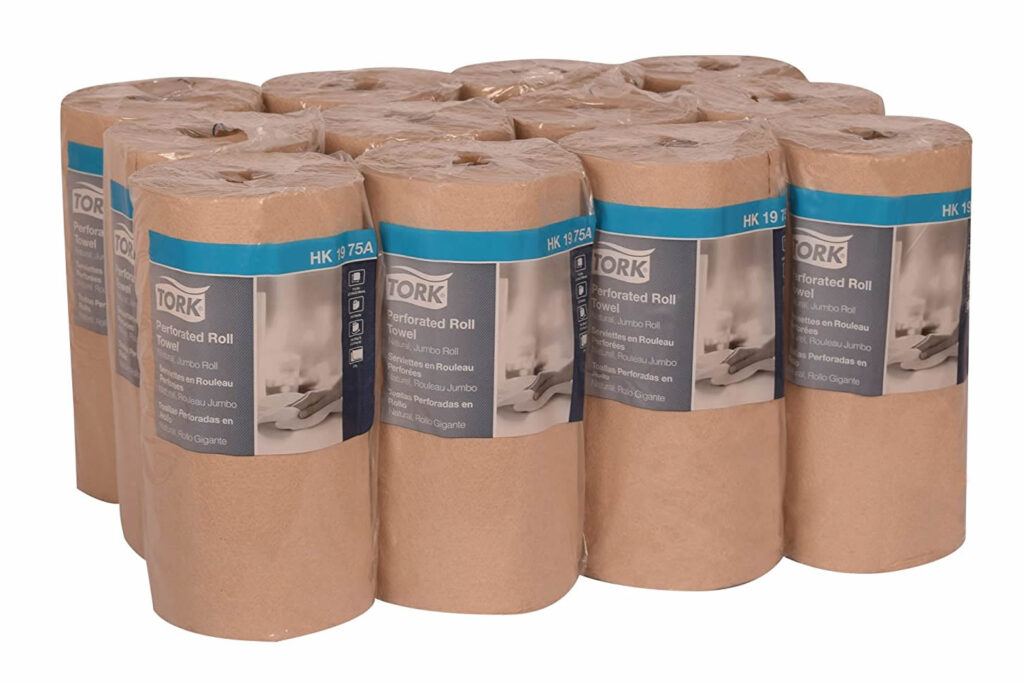 For this, I use Tork HK1975A Perforated Roll Towel because of its chlorine-free processing (Green Seal Standard GS-1) and other features
Folded paper towel absorbs more water and less likely to tear
I sometimes let it air dry on a clean tray, then reuse it for the same purpose
Hand Drying
[New –> Pretty Clean]
I use this sheet only after I washed my hands with soap and water
I don't use it for other purposes until it needs to be down graded
For repeat use, I use Viva for it's durability
Between uses, I spread it to air dry
I still use cloth towel unless I will be eating with my hands (pizza, fruits, etc.)
Soaking up Oil / Cleaning Food Scraps Before Dish Washing
[Kind of Clean —> Not too Clean/Compost]
I do this before/instead of rinsing before washing dishes
This saves on soap and water because the dishes are now easier to clean
Super effective on oily plastic containers
When the paper towel has done all it can, I put it in the compost bin for garbage collection (might not work well in the home compost pile)
Prepare Items for Recycling
[Not too clean —> Compost]
I clean out the oil and food residues in containers before recycling them
I can avoid or reduce the use of soap and water since items don't need to be food safe clean
At this stage, the sheet then goes straight to the compost bin
This strategy might not work for you but you get the idea. I almost never use paper towels outside of the kitchen but the same idea applies, only it might not be compost safe because of the chemicals in your cleaners.