As instructed in Marie's book, The Life-Changing Magic of Tidying Up: The Japanese Art of Decluttering and Organizing, I started with clothes.
From one of her Japanese tv appearances, I learned that you should never take anything out of your room for this. I decided to work by the subcategory so I'd have the room to sort and fold. And again by the order suggested in the book.
The check list here is posted in my room and I gave myself a sticker as I finish each subcategory. The the gold stars you get when you were a kid.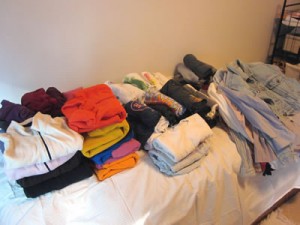 And no worry about not being overwhelmed enough that I'd go back to my old way again. I thought I did a "deep cleaning" last year yet I saw I still have so much more.
Pick What You Love 1st
When I saw all these clothes, I didn't know where to begin. Then I saw the corner of my favorit summer shirt peaking out and remembered I need to pick out what sparks joy.
When to Take Short Breaks
There were moments I wanted to give everything away and moments I worried I'd have nothing to wear when the weather tunes.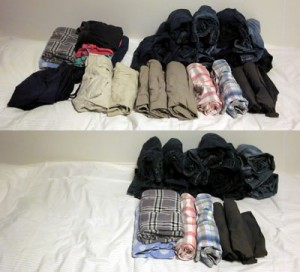 These were the irrational moments I took breaks. I also remind myself that if I didn't keep going, I won't be able to sleep in my bed then I got right back to it.
Showing Gratitude to Not-Keeping items
It felt funny literally thanking each item because it feels like an empty gesture (it's a very Japanese thing to do but I'm not Japanese). But I also didn't want to skip this step, especially after thanking so many times.
To show my respect, I folded every piece as if it's going back into my closet (also very Japanese but this one I can do with sincerity.) Even if it's going to be recycled, I still folded it.
This is also a good opportunity to inspect each item for it's proper destination. More explanations in Holey Cloth Are Still Holy.
Storing
I'm going to wait until all of my clothing are sorted out so I can position them logical, accessible way so I'd never have to "remember" where I put what.
My room is a mess right now but the vision of my dream room is fueling my effort.
Notes
When Marie says keep what sparks joy, I think that includes the items you need.
Remember to do this by yourself in the room, you need to be the one making the decisions.
Do this in silence, it will help you stay mindful and being in the zone.
Side Effect
Unsubscribe from sites I'm no longer interested. I can always sign up again when I need to later.