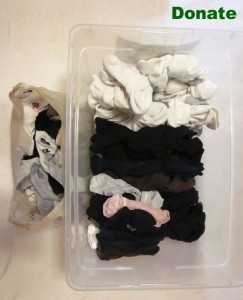 Don't have many pictures here, the rest of the clothes subcategories are mostly small items too numerous to record. It was getting in the way of the KonMari cleaning process.
Socks/Underwears
Bags/Accessories
everything in this subcategory fit in one box, placed with the unmarked side out. Marie said any text or decoration on the box would add visual noise. Try it, it's true.
donated all trinket jewelries. Though they are still cute, I don't wear them anymore.
gave away most hair accessories, only kept the claw clips that I always use
Clothes for events
own 1 dress, I chose it because it would work for all events. If you care about having the same dress in all different event photos, then I don't recommand it.
Shoes
donated all pumps excpet for one black pair that my feet love
Kept 5 paris of sandals, so I have a least a pair for my flat feet when I send the others out to be resoled. All the "inactive" sandels are packed into one box. To avoid seeing text (visual noise), I placed the label/item list under the box.
I've been living with 1 pair of running shoes (my everyday shoes) for a long time and have no need to get other kind of shoes
Other
kept two sets of beddings (need to clear these out so I can put things back into my closet) for rotation
Use what you have, keep what you've earned
As I'm posting this a month after the clothes cleanup, I have more tops and socks to go to the donation. When I was sorting, I thought I needed them but as I live with my "renewed collection" of clothing, I find myself finding ways to use what I already own and often there is no need to buy more.