Forget about electric blanket, stay cold or worry about electric fire, you are sleepless either way. Go with a water heating blanket!
My father never liked electric blanket, why?
You can't sleep on it
Hard to keep it clean (Though it says it's washable, he worries the electrical might be damaged. And it may be safe but the worry keeps him from sleeping.)
Direct heat is uncomfortable
The EMF, electromagnetic field, should be avoided (This is from me, there are already enough signals bombarding our bodies, we don't need to wrap ourselves in it every night.)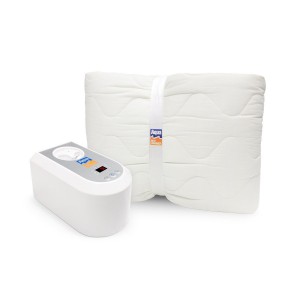 He was sleeping on a small water heating pad from Asia but it broke down right when the weather turned cold. The option of going back to an electric blanket troubled him.
Not believing that we won't have something similar in the States, I went searching. And then I found it.
Aqua Bed Warmer Non-electric Heater Blanket by Aqua Bed Warmer. This one also heats by water only better. As of today, he has been sleeping on it for almost a month.
He loves it!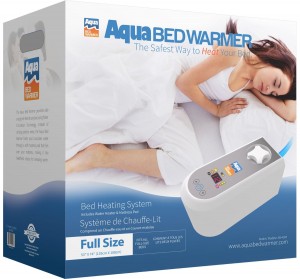 In the first days, he kept saying how lucky he was to get something ever better in the States.
It fits on top the mattress and under the bed sheet (Full length means even the feet stay warm)
No safety concern (at worst you just get wet)
Can keep it on all night
Precise temperature control (he likes around 98 F)
Gentler heat
A quiet heating unit
100% cotton pad cover
Very well made
No EMF (because it's water, not wires inside the blanket)
Great Customer Service
Aqua Bed Warmer is one of the brands under Firstech based in the Washington State with its R&D in Alaska.
So I called to ask for more details like the warrenty and return/repair. The person answered the phone didn't know I was talking about the heating blanket. Most people call about products for their other brands. I took it as a good sign that not a lot of people have issues with it.
He didn't have much data to go on but told me his uncle has been sleeping on one for a while and he never heard any complaints about it. He didn't tried to convinced me, just trying to give me as many details as he personally knew.
He said if we got it via Amazon we can return it with in 30 days.
Through out the call, he was very patient, friendly, and funny. I felt it was safe to buy from this company.
Special Notes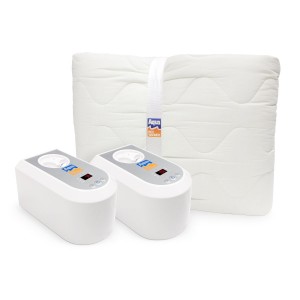 It runs from $250 to $450, expensive compared to electric blankets. But to my dad not sleeping well (leads to sickness) is even more expensive in the long run.
When my mom put her hand on it she said it didn't feel hot but when my father lay on it, he can feel it getting warmer.
And when we got it, the company gives out a 2-year warranty if we registered the product online.
Be sure to measure your mattress so you how will it might fit.
The now have the Aqua Bed Warmer dual-zone option for people share a bed.