Cheaper Means Cheaper
Been buying sheets on sales at department and other stores. They were cheaper but some smelled, some had pills after one wash (i.e. not going to last long), some only had weak elastic on the corners of the fitted sheets. And of course, none of those were made in the USA.
One side effect of my "Konmari Cleanup" is to simplify my life, including owning fewer quality things that last a long time. That also means, reduce waste and be green!
Authenticity 50, 100% "seed-to-stitch" Made in USA
US made products still means quality and safety.
When I found Authenticity 50, I couldn't believe it.
California Supima cotton:Supima cotton produces stronger and softer fabric.
Georgia spun yarn
Carolinas woven fabric
Family-own factory hand sewn sheets
Georgia made elastics
Even the duvet cover's corner ties and buttons are made in USA!
Trying It Out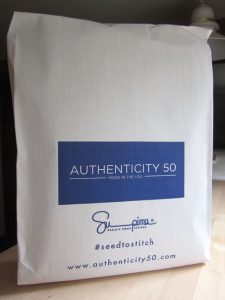 To test them out, I got the A50 Duvet Set because I never use the flat sheet anyway. (They come with 100-night sleep trial.)
Minimal Yet Sufficient Packaging
The set came in a plastic bag inside a sturdy paper bag (good for recuse/recycle). And from the condition it arrived in, you don't need more packaging than this. And it translates to reduced cost and less enviornmental impact.
360 Degree Elastic
I love that the elastic for the fitted sheet is 360 degree, not just in the corners. The elastic is wider and thicker than the other ones I've had. You can feel the quality by holding it in your fist.
Using it, Loving it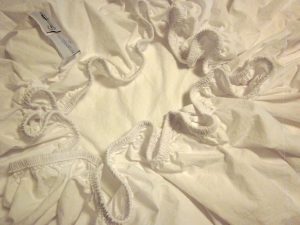 I've slept in them for a while now. The texture reminds me of the line-dried cloth. And there is no smell, too soft, too slippery issues.
I've also washed it a few times, still good as new, no pills. The 250 thread-count seems to mean more than the 300+ ones I had before.
I believe we are going to have a healthy long-term relationship.
Tips with Fitted Sheets
The fitted sheets made for 14″ pocket. But do remember to include the extra paddings you have on your mattress.
White Only!? Consider The Costs
Some reviewer wished for colored sheets but think of the extra cost and the problem of not being able to sell less popular colors. The founders want to provide quality sheets at reasonable prices, I totally support having only white sheets.
Besides, I found color sheets tend to take over the room. If you want color, decorate with colorful pillows or a small throw. It's cheaper and easier to switch up your themes this way, too.
UPDATE (Aug. 2017): Authenticity 50 now has Carolina Gray for people who don't want white beddings.
$15 Coupon with My Referral Link
If you are looking for the coupon, sorry it has expired. But if you can still save by signing up at Authenticity 50, they do have amazing sales from time to time!
P. S. Want more USA made goods? See what else I actually use or shop at my Made in USA Amazon Store.